Start of main content.
Webinar
ON DEMAND: Why Data Should Be at the Center of Your Bank's Strategic Planning
Recorded on November 29, 2023
Speakers Include
Jerry Champi

President & CEO, FNCB Bank

Brian Humphreys

President, Rio Bank

Jeff Marsico

President, The Kafafian Group

Kim Snyder

CEO & Founder, KlariVis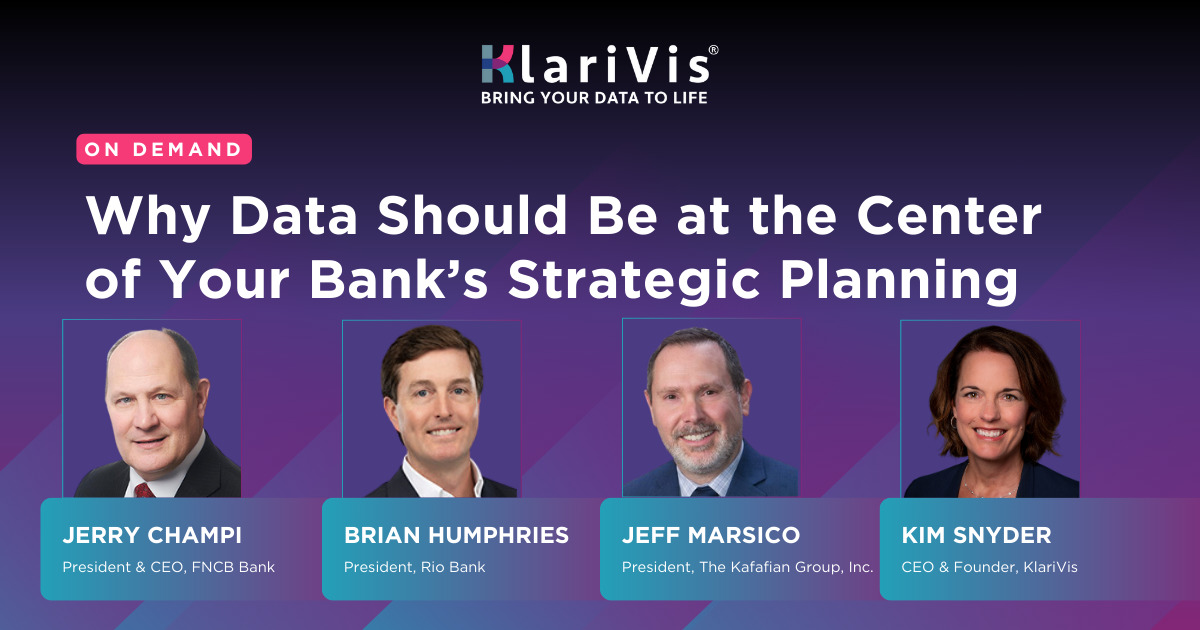 The discussion, including panelists Jerry Champi, Brian Humphreys, and Jeff Marsico, led by Kim Snyder, explores the valuable role data plays in strategic planning for banks. They highlight the power of data tools like KlariVis in tracking achievements, improving efficiency, and enabling better-informed decision making. They further delve into overcoming challenges around data integration, nurturing accountability, and shifting towards a data-driven culture. The conversation also covers regulatory pressures, peer comparisons, and the need for banks to reassess their current data usage and accessibility.
Speakers Include:
Jerry Champi, President and CEO of FNCB Bank
Brian Humphreys, President of Rio Bank
Jeff Marsico, President of The Kafafian Group
MODERATED BY: Kim Snyder, Founder & CEO of KlariVis
00:00 Introduction and Panelist Presentation
00:57 Panelist Background and Bank Overview
04:47 Strategic Planning Processes at Rio Bank & FNCB Bank
12:27 Importance of Customer Data in Strategic Planning
16:45 Challenges in Incorporating Data into Strategic Planning
26:45 Prioritization of Information and Preferred Data Sources
29:23 Creating Cultural Changes for Strategic Success
31:45 The Importance of Speed in Accessing Data
34:49 The Fear of Job Loss in the Face of Automation
36:40 The Impact of Regulatory Pressures on Reporting
40:00 The Importance of Accountability in Strategic Planning
53:08 The Use of Peer Comparison Tools in Strategic Planning
55:42 The First Steps Towards Becoming a Data-Driven Organization
Explore Other Content From KlariVis